ACM Symposium on Cloud Computing 2020 (SoCC '20)
Registration is now open for SoCC! Because of being virtual, and of our generous sponsors, regular registration is $15 for all (it will be $45 after Oct 15th, do it now!).
The ACM Symposium on Cloud Computing 2020 (SoCC '20) is the eleventh in an established series of symposia that bring together researchers, developers, users, and practitioners interested in cloud computing. SoCC is co-sponsored by the ACM Special Interest Groups on Management of Data (SIGMOD) and on Operating Systems (SIGOPS).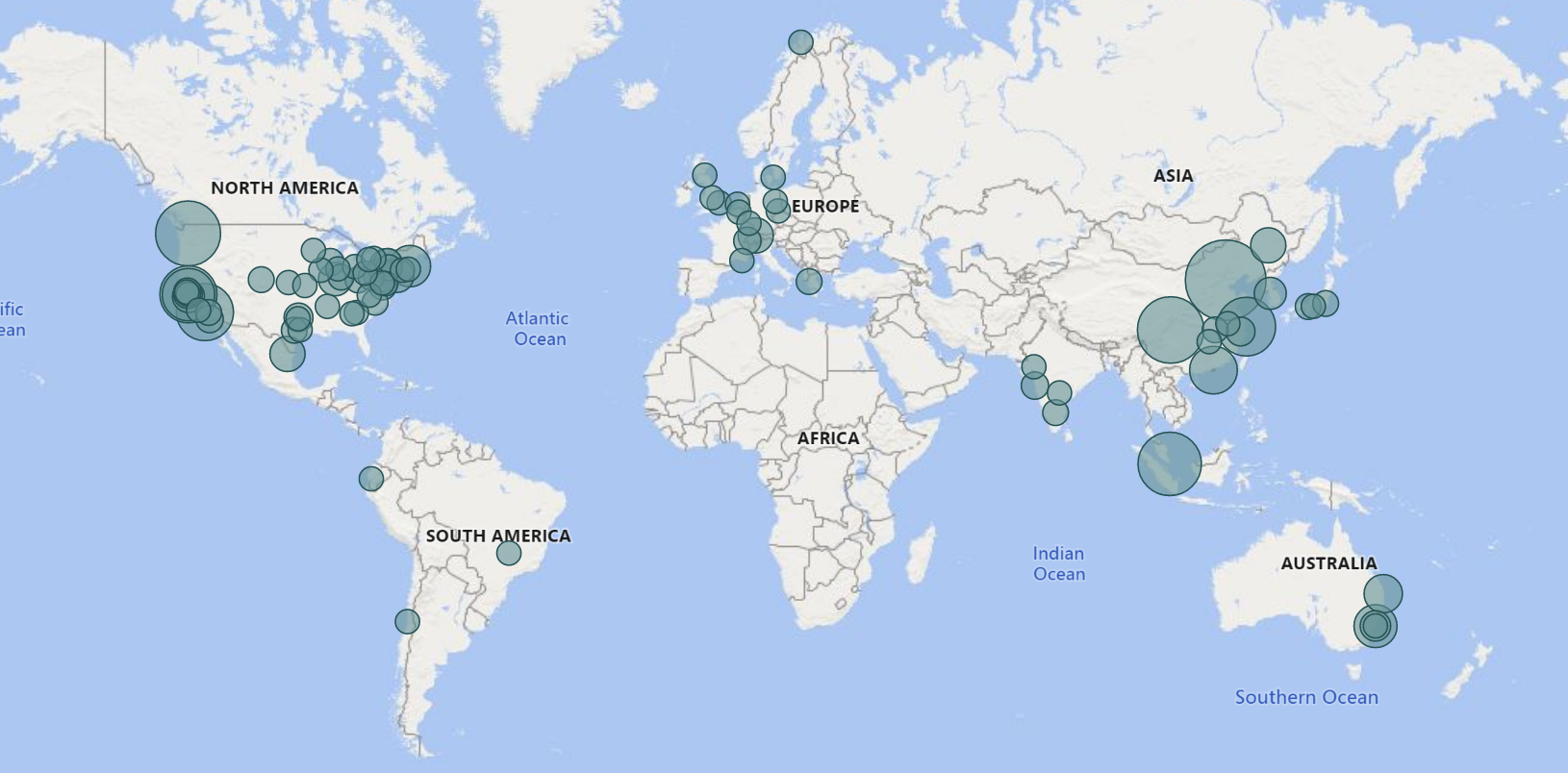 Locations of SoCC 2020. As of Oct 14th, we have 427 registrations from 21 countries
SoCC will be held entirely virtually, using two platforms: Whova as the main platform for the conference, and VirtualChair/Gather, for the hallway, extended Q&A, and poster sessions. You can use Whova through the web portal, or get it for your mobile device.
With the exciting schedule of papers, keynotes, posters, and panels, and plenty of opportunities to interact, we are confident that SoCC will be a great event, with the potential to reach even more people around the world, and continue to connect academics, researchers, and industry around cloud computing.
Announcements
[10/14/20] Check out the How to Attend page for details on how to make the most of the virtual conference next week!

[10/13/20] Thanks to SIGOPS and SIGMOD, all the papers and videos are now available at the ACM Digital Library. Registered attendees can also watch the videos on Whova, in the detail page of each paper. There they have captions, and you can ask questions that the authors will answer live next week.

[10/04/20] Please sign up to participate in the mentoring program

[10/01/20] Registration is open! Register now to get the regular price ($15).

[09/30/20] The full program is up. Papers and presentation videos will be available on Oct 12, one week before the conference, with persistent Q&A. During the conference, there will be live flash talks, followed by live Q&A.

[8/19/20] SoCC will be fully virtual! Registration details coming soon. There will be more opportunities for participation from around the world!

[5/5/20] Paper submission extended (due to COVID-19)
The ACM Symposium on Cloud Computing 2020 (SoCC '20) acknowledges and values all dimensions of diversity by cultivating an environment built on tolerance and mutual respect. We actively promote inclusion in every aspect of the symposium including but not limited to organization and program committees and conference activities. We encourage the participation of all individuals regardless of age, gender, gender identity, race, cultural background, religion, physical and mental ability, sexual orientation, parental and marital status, etc. We actively denounce and combat prejudice and stereotyping, and will follow the ACM Policy Against Harassment, embracing ACM processes for Reporting Unacceptable Behavior.
Please follow this webpage for updates on the steps we are taking to create a diverse and inclusive environment during the conference. As we embark in this journey of continued (un)learning we will misstep. Your ideas and feedback can help us find our way towards a healthier and more welcoming community. You may contact SoCC D&I Chair, Karla Saur (Karla.Saur@microsoft.com), with suggestions, comments, or complaints about our work in this area.
Sponsoring the Conference
Becoming a sponsor











During official program sessions and events the words, images, sounds, object, and technologies presented at the Conference are protected by copyright or patents. Please respect the owners' intellectual property and speakers' rights of privacy by not recording or photographing these sessions without proper clearance.